Good gourd! BCHA's allotment isn't just helping customers to grow their own fresh fruit and veg – the productive plot is arming students with a wealth of horticultural know-how that's inspiring a new generation of green-fingered entrepreneurs.
o mark National Allotment Week (7-13 August), our horticultural experts at this little slice of Eden, nestled beside a field at Throop in Bournemouth, are revealing how sowing and hoeing can help students to transform their physical and mental wellbeing – empowering people with skills and qualifications that pave the way into employment. Some have even progressed to launch their own thriving businesses.
The 2.2 acre BCHA Allotment has a proven track record of helping people to recover from homelessness, addiction, mental health issues and trauma – with an open door policy to anyone over the age of 19 who is seeking employment. With interest in gardening and grow-your-own at an all-time high, the plot is operating at capacity, equipping up to 24 students per week with the skills and confidence to nurture their own produce.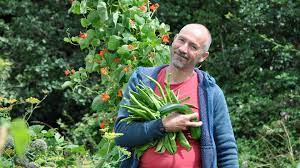 The thrill of watching plants grow
The project is led by Allotment Coordinator Miles Mahoney, a horticulturist with 25 years' experience. Miles says: "I get a thrill out of watching plants grow and it has never waned. From seeing a seedling poke through the soil to eating the fresh produce – I love it! Plants don't judge you and they give you so much pleasure. The allotment connects people with the natural world; there's always something to do and you forget about everything else."
Horticulture Tutor Alison Firth agrees: "For me, it's about escapism," says Alison, who worked in the fashion and textiles industry before turning her passion for plants into a career after gaining a City and Guilds Level 3 and Royal Horticultural Society Level 2 qualification at Kingston Maurward College near Dorchester.
"If you have an overwhelming day you can go to the allotment, tend plants and pick veg, then gift them to family or friends. Gardening takes your mind away from everything else that surrounds you. That's what students enjoy, because they can escape from the stresses of life and talk about plants," Alison explains.
Traditionally, TV garden makeover shows have inspired people to pick up a trowel but Alison points out that social media is sowing the seeds of interest: "One student joined because he saw a gardening influencer on Tik Tok," she says, pointing out that students quickly become friends and bounce gardening ideas off each other via WhatsApp groups.
Miles says the allotment has witnessed more people signing up in a bid to combat anxiety and depression: "The signs of recovery soon become evident when we hear people chatting, joking and laughing, connecting with each other using social platforms and going on to become great friends. It's so rewarding to see," he says.
Sharpening horticultural skills
Two accredited courses are offered at the Allotment: City and Guilds Level 1 and 2 Certificate in Practical Horticulture. The Level 1 course, taught by Alison covers the basics, from soil preparation, sowing and planting to watering, pruning, plant propagation, taking cuttings, growing in containers and caring for houseplants.
Level 2 City and Guilds, taught by Miles, hones students' horticultural skills by equipping them with know-how on preparing areas for planting, keeping indoor plants looking lush, growing plants from seed, caring for planted areas and the art of taking leaf cuttings.
With maximum class sizes of 12 to 14, students benefit from training in small groups, with new-found enthusiasm quickly becoming evident. Alison says: "Our last cohort was a diverse group of people, with some who enjoy horticulture and others who had never grown anything before.
"We were supporting one customer who wouldn't eat fresh food. When he came here we gave him a courgette. By the next week, he knew everything about courgettes – how to cook, fry, steam and save seeds. Now, he's going to grow his own and has even bought a steamer."
Miles adds: "As well as improving students' wellbeing, the courses help people to get back into work. We connect students to the horticulture industry. We've trained lots people who didn't have any qualifications or worked on building sites doing jobs they didn't enjoy. We open their eyes to the horticulture industry and set them on the path to employment, backed by recognised qualifications, while some go on to advance their skills at college or diversify into similar areas such as conservation."
Gardening in tune with nature
In addition to extensive food-growing areas and planting for pollinators, the allotment features raised beds, polytunnels, 40 apple trees and a pond. The site is organic (no synthetic chemicals or pesticides) with clever use of 'companion planting' to keep pests at bay. Marigolds, for example, ward off aphids with their powerful scent, while sacrificial crops of nasturtiums are planted, which lure blackfly away from vulnerable crops such as runner beans growing nearby.
The site is 100% peat-free, ensuring that peat, which has traditionally been mined for bagged compost, remains in natural lowland bogs – protecting wildlife habitats. While gardeners have often been taught to dig the soil, the BCHA Allotment runs on no-dig principles, a process that emulates natural ecosystems. By adding compost or manure to soil instead of turning it using a spade, worms and micro-organisms remain undisturbed, eliminating the need for labour-intensive digging.
The site features extensive composting facilities, transforming green waste into soil improver, and Miles and Alison are looking to install a giant rainwater harvesting facility – helping to reduce reliance on costly mains water to keep crops alive during heatwaves. Students can hone their skills all year-round in the comfort of a Yurt, heated by a cosy log-burner and powered by clean, green electricity generated by solar panels.
A showcase for the allotment at BBC Gardeners' World Live in Beaulieu saw Alison win a Platinum Award and Best College Show Garden. Now, plans are afoot to return to the show next year (3-5 May, 2024), possibly creating a mini-allotment that promotes BCHA's courses by championing gardening for mental health.
Up to five volunteers a day on Mondays and Tuesdays help to keep the allotment in shape (potential volunteers can apply to join a waiting list) while students are referred via BCHA, job centres or partner organisations. From boosting self-confidence to transforming physical and mental health, you could say that the allotment instils a sense of self be-leaf!
Student Em Newell turned her passion for plants into a thriving garden maintenance business, thanks to training at BCHA's Allotment.
She started the flourishing horticultural enterprise after completing both City and Guilds Level 1 and 2 courses at the Allotment, which armed her with a wealth of horticultural skills.
Em said: "The course was brilliant! Level 1 and 2 taught me so much. Without BCHA, I'd still be scratching my head, because most of the other courses I looked at cost hundreds of pounds. The courses at the Allotment offered structure while being fun and creative."
The green-fingered entrepreneur started Em's Garden Services, securing a band of loyal customers who trust Em to tend their horticultural havens.
"I'm now looking to take on more customers and increase my earnings," said Em. "I got myself a van and tools and I'm growing the business. I wouldn't have been able to achieve this without the courses.
"The training at the BCHA Allotment hugely increased my mental and physical wellbeing. Through learning about growing fruit and veg, and meeting new people, I have taken more of an interest in my own nutrition and delved deeper into self-care and natural nourishment. I have become a more confident, happier person and turning what I love into a career has had an amazing impact on my wellbeing."
For more details about on how to get involved, please contact the allotment team at newleafalloment@bcha.org.uk or call 01202 410500. To find out more about BCHA, please visit www.bcha.org.uk