The Leader of BCP Council summed up her first visit to BCHA as "amazing and impressive."
Councillor Vikki Slade visited the charitable housing trust's BCHA Learn centre in Palmerston Road, Boscombe on national Employability Day (June 30) to meet staff, learners and tutors.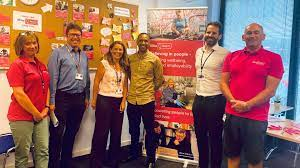 BCHA was founded over 50 years ago and is a major provider of a diverse range of housing, support and learning services for socially excluded people across the South West.
The organisation's BCHA Learn arm supports hundreds of people each year through small group programmes. Courses include those which help improve employability and mental health and wellbeing, give an introduction to volunteering, offer qualifications and develop skills for work or further education.
Cllr Slade said: "It has been fascinating to learn about the work being done by BCHA Learn to support and enrich so many people's lives.
"It's amazing and deeply impressive and I look forward to working with this fantastic organisation further."
Cllr Slade was elected Leader of BCP Council in May and announced priorities including: "Treating the most vulnerable in our society as we would our own family members – offering compassion care and support."
During her visit to BCHA learn she also heard about its new courses developed around the cost of living crisis which are helping people to improve their budgeting and financial health.
Councillor David Brown the council's portfolio holder for Health and Wellbeing also attended the visit to BCHA Learn.
Val Jefferies, Project Manager for BCHA Learn said: "We were delighted to welcome councillors Slade and Brown to BCHA Learn on Employability Day.
"Like BCHA, this national awareness day seeks to highlight and break down the many barriers to people finding meaningful employment.
"Councillor Slade was impressed to hear about the ever-growing number of learners we are attracting and the effectiveness of our courses in helping people make positive changes in their lives.
"We were very encouraged to hear of BCP council's pledge to support those who most need it in our society and very much look forward to lending our expertise to assist in that shared goal."
For details of all BCHA Learn programmes, workshops and sessions including digital skills, budgeting, money skills, cookery, horticulture, introduction to volunteering and wellbeing, please drop in to BCHA Learn, Palmerston Road, Boscombe, BH1 4HN, email: bchalearn@bcha.org.uk or visit: www.bcha.org.uk
Media information on this release from Victoria Kate at: Victoriakate@bcha.org.uk